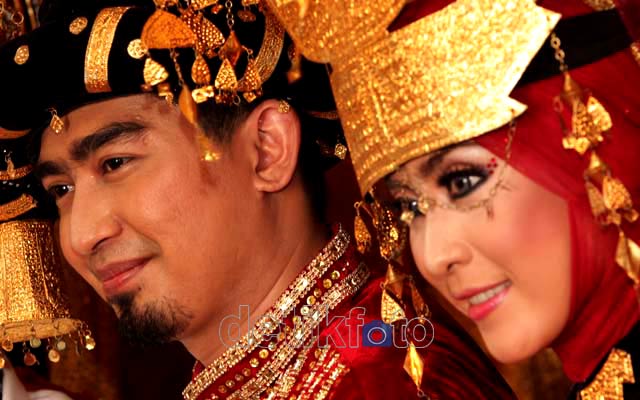 In Indonesia some of ethnic/tribe use their marga behind their names. The other only use their father name acording to akta kelahiran.
LiL bit different from foreigner people, they only use their father's name.
Their origin name included father's name on their ID/akta Lahir.
Today I watch on TV, April Jasmine wifey of ust.soLmed (a.k.a soLeH maHmoud) got her last name behind her origin name.
Secara sejak april yg notabene org betawi asli merrid sm solmed org asLi maindailing natal, Sumut.
Jadi dia dikasih nama belakang...
Mengapa?? Ya iyalah kan ikutin suami. Masa kebalik? :)
Pemberian nama belakang/marga ini tidak sembarangan Loh... Pakai upacara adat,
jd ga asal catut nama
walaupun asalnya dr suaminya langsung :)
Uniknya namanya beda.
Apri Jasmine ngelakuin upacara adatnya itu tanpa didampingi solmed. Kenapa??itu sdh aturannya...gw ga tw, tanya aja sama yg berkompeten jawabnya :p
Menurut Hemat gw siy....ya iyalah kan pemberian marganya khusus bwt orang yg bersangkutan aja :>
Setelah prosesi adat selesai, baru deh solmed jemput istrinya lengkap dg baju adatnya...ya seperti resepsi nikahan ya.
ApriL dapet nama "dewi boru Lubis"
"Ya sekarang prosesi sudah selesai, sekarang april sudah menjadi bagian warga kami di mandailing natal ini, dengan pemberian nama Lubis, sedangkan saya sejak kecil sudah dengan nama nasution. Jadi Lubis-Nasution... LuNas sudah" ucapnya sambil tersenyum.
Sama ya kaya ashanti, karena dy merrid sm org jember yaitu mas anang...*wew mas anang... Sok akrab banget gw wkwkwk.
Pas ngunduh mantu d jember kemarin, disaksikan warga jember & sekitarnya (secara Live di TV -__-) disyahkan ashanti sah jd warga jember oleh bupati.
Yah begitu lagh.... Kalau jadi perempuan itu ikutin suami.
Masa kebolak, nanti anaknya songong semua Lagi :p kl apa2 menurut garis keturunan perempuan kasian bapaknya ya... Kaya kaga dianggep gitu ckckck.
Jadi kalau suami km orang padang, Lampung, sunda, makassar, dayak. Jadi perempuan mah jd nurut asal suami walaupun Lw aslinya wanita papua.
(contoh)
Jangan trLalu dominan jadi perempuan..... Lakinya kaya ga dianggep gitu ntar anak2nya pada bader..
Waduh.
Do not ever forget your father lineage origin, don't you ever deny !!!
xoxo
seFsecHa